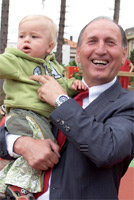 Mr. Milan Vopička, Director, is presented to you:
Since 1960 he has been working in the field of building sports facilities, first as principal designer of the "Prague Institute of Engineering Design". He subsequently became the chief engineer of sports stadiums such as Slavia Prague, Sparta Prague, Dukla Juliska – Prague, as well as such other sports facilities as Club Hotel Pruhonice and CTD Štvanice. His specialty is the propagation of new "no maintenance" technology for sports facilities. After 1989 he became Founder, Owner and Director of "Sport Technik Bohemia". He is a leading professional in sports facilities both in the areas of artificial surfaces and innovative architectural designs. He developed a unique techology for building sports facilities in the Czech Republic, which through his efforts was passed into law by the Czech Parliament. He is the author of a programme "Construction of multi-purpose sports facilities as a way to combat drugs" - sports facilities on a level of the new millenium (namely for school children – not only for top athletes). In 2007 became president of the Association of contractors guild in the Czech Republic. He has been a keen sportsman, formely a player in the National Ice Hockey team, First League ice hockey player and First League tennis player, too.
Dear customers,
it is my great pleasure to introduce

, a specialized sport complex building company, which has gained an exellent reputation in the twenty short years of its existence. Hitherto it has built more than 1,600 sports stadiums, arenas and fields in all parts of the Czech Republic. The company's expertise is based on an experienced and professional team of emloyees, lead by Mr. Milan Vopička, Director of "Sport Technik Bohemia", and Mr. Pavel Křtěn, Chief Designer. They both are former active athletes and have more than 40 years of experience. They cooperate closely with local and foreign sub-contractors. The company's design and production departments allows it to realize a large variety of sports structures, including reconstructions for private clients, school gymnasia, hotels and sports facilities.
Our main goal is to satisfy our customers through complex realization of buildings, continuous extension of assortment and performing top quality buildings. Professional realization of orders is the main goal in our business philosophy – starting with marketing, followed by design and realization and ending with operation services. Our customers, coming back to us with new orders , is our best reward to our work. We are trying to meet all demands of our customers, small and big. Some orders are state-sponsored.
The mainstays of our supply programme are the construction of sporting fields, operational buildings, multi-purpose sports structures for tennis, soccer, track and field, school exercices, or hotel centres. We specialize our company programme on building classic clay courts or artificial surface ones of the best international quality. We also offer several types of indoor tennis and multi-purpose construction halls and a broad assortment of artificial outdoor and indoor surfaces. Lately, siliceous sand-poured artificial grass has become very popular. We supply this surface in many varieties and it is suitable for all kind of sports. We supply artificial soccer grass of a third generation, too, where the M. Vopička in 2007 became president of the Association of contractors guild in the Czech Republic. Our customers and investors will be gratified by our professional advisory services including preparation of sketches, economic analysis and construction projects. We realize these projects using our own engineer and designing teams. Our company is also authorized by IAAF to demarcate track and field and handicaps including attestations for official events. Thanks to close contacts with foreign companies and producers, we have acquired many exclusive business representation and assembling authorisations for areas of the Czech and Slovak Republics.
Dear customers, we are ready always and anywhere to offer you our top-quality technical and supply services. We work expeditiously and for competitive prices. Our growing number of successfully realized orders makes us proud of our work and we believe that our work will bring you added value. We will be pleased to fulfill your projects and plans, and to allow athletes to enjoy their sporting activities.